Holi In India
Holi is a popular ancient festival in india, also known as the "Festival of Love", the "Festival of Colours" and the "Festival of Spring" The festival celebrates the eternal and divine love of Radha Krishna. It originated and is predominantly celebrated in the South Asia but has also spread to other regions of Asia and parts of the Western World through the Indian.
Holi celebrates the arrival of spring, the end of winter, the blossoming of love and for many, it is a festive day to meet others, play and laugh, forget and forgive, and repair broken relationships. The festival also celebrates the beginning of a good spring harvest season. It lasts for a night and a day, starting on the evening of the Purnima (Full Moon Day) falling in the Hindu Calender month of Phalgun which falls around the middle of March. The first evening is known as Holika Dahan (burning of Demon Holika) or Chhoti Holi and the following day as Holi, Rangwali Holi, Dol Purnima, Dhuleti, Dhulandi, Ukuli, Manjal Kuli, Yaosang, Shigmoor Phagwah, Jajiri.
If you like to celebrate your weekend in this festival then here is some famous place in India to celebrate Holi and enjoy vacation.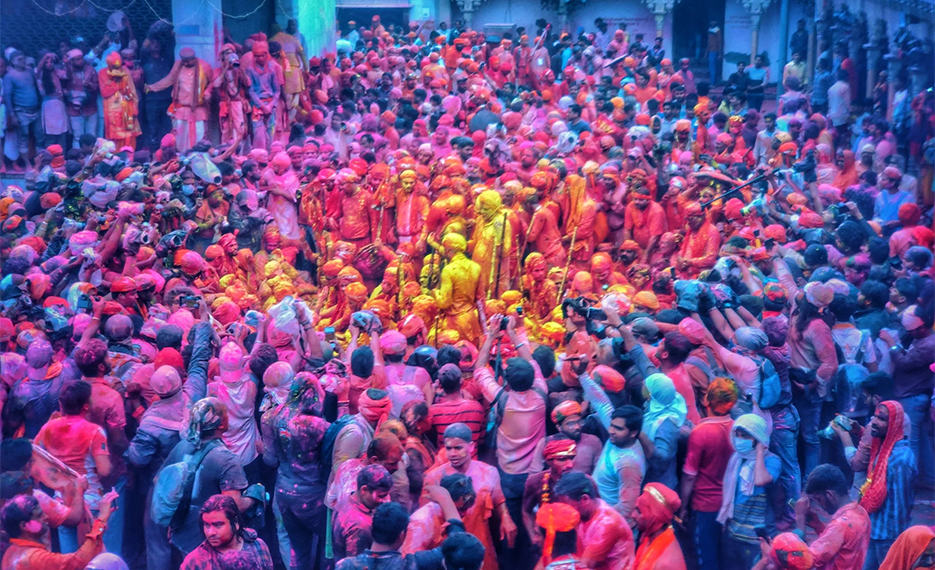 01 Bankey Bihari Temple, Vindravan, Uttar Pradesh
Holi of Bihari ji is famous far and wide. This festival is began celcebrate from the arrival of Basant Panchmi. But the main utsav celebrated for 6 days. In these 6 days celebration of Holi, Bihariji is dressed up in white coloured outfit and comes closer to his devotees to play holi with Gulal, Natural coloures made by flowers and kesar. Colured water and Gulal are sprinkled on everyone by the Goswami. At this occasion Goswamis sing Holi bhajans, Rasiya etc…. Thakur ji is Offered special Bhog, preasad of Jalebi, Samausa and Chat.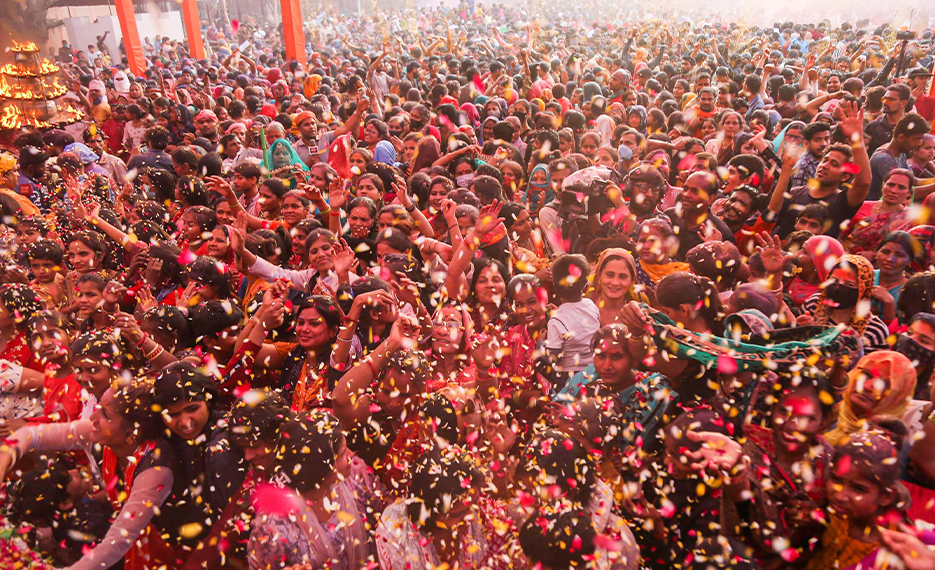 02 Varanasi, UP
Top place to celebrate Holi in India is Varanasi in the bank of Ganga. The festival is spread over two days in the city. A custom called Holika Dahan is observed on the evening before Holi. It involves lighting a bonfire on the ghat, which signifies the triumph of good over evil. Cow dung cakes and wood are burned alongside. Grain is also offered to the fire-god, seeking prosperity in return.
A peculiar thing that happens only in Varanasi is that in this evening, people rub a paste called ubtan over their bodies and burn the leftover paste believing that it will cure them of all diseases.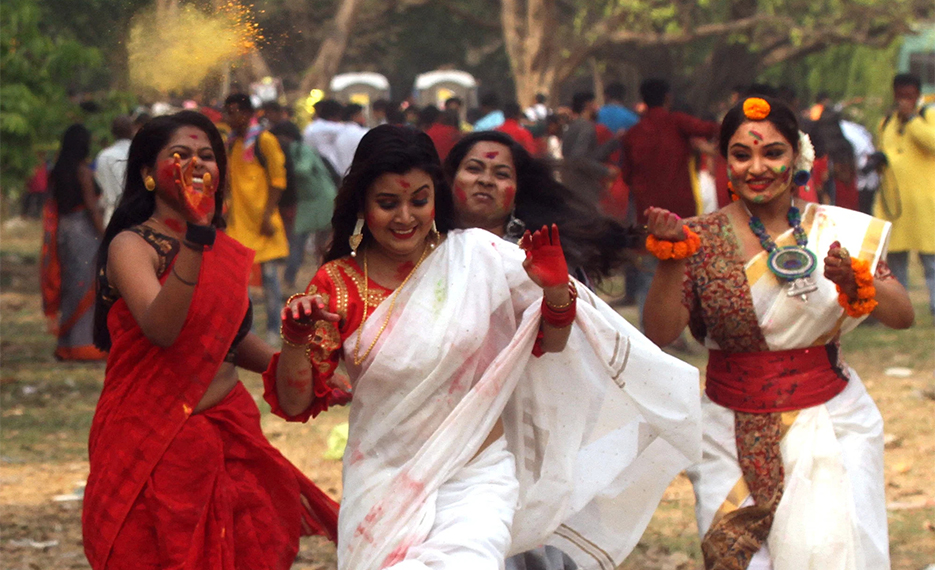 03 Santiniketan, Bolpur WB
The Basanta Utsav is celebrated at the time of Holi. In the Vishwabharati University Campus,In Santiniketan, Bolpur, the celebrations will be a two day festival here. It was fast organized by Rabindranath Tegore. Do visit Bolpur Santiniketan to be a part of this energetic and enthusiastic merrymaking. It is most popular area to celebrate In Bengal. It is one of most awesome place in India to Celebrate Holi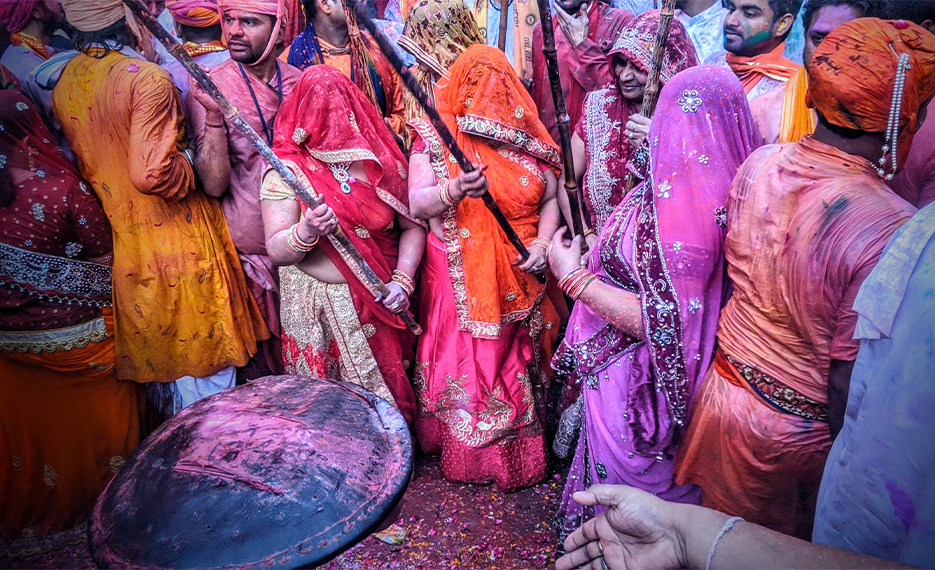 04 Barsana UP
Lathmar Holi is very popular in Braj of Uttar Pradesh. As per the traditions, men from Nandgaon go to Barsara to throw colours on the women. These women chase the men with sticks. The men hold a shield on top of their heads and enjoy the festival together.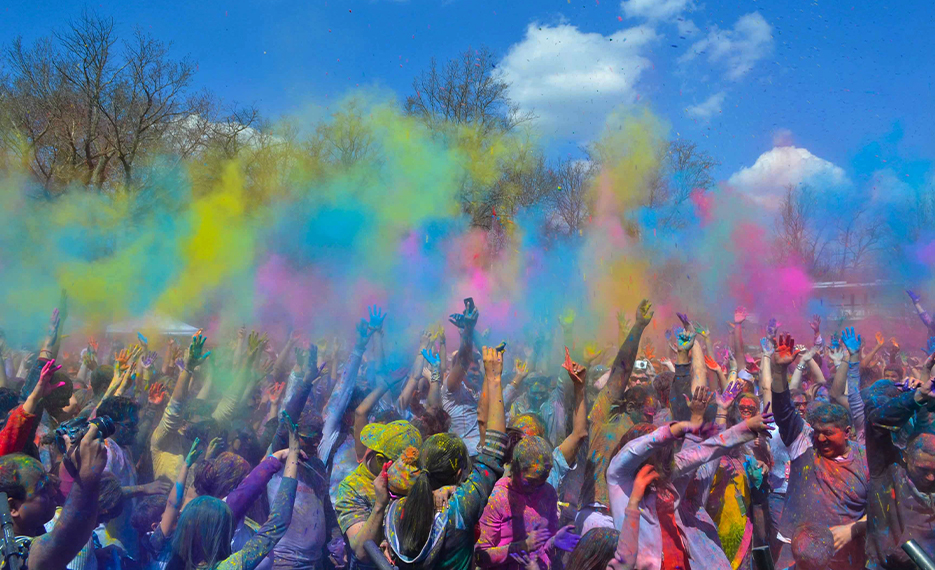 05 Delhi
With kids turning into colour hooligans and elders crazy with fun and frolic, it's a known fact that Delhi gets a little rowdy during Holi. But if you can get tickets to the 'mad moozik' festival, Holy Cow, which is one of the most happening festivals of Delhi, you are in for an awesome time. With a kickass line up including the country's best independent music acts, Holi Cow is where every music lover flocks together in this spring festival. This year, experience the best Holi in India, in the heart of the country itself. For enjoying the festival of colours in a different way one of the most authentic places to celebrate holi in India is Delhi.
06 Hampi
"Holi in Hampi" is an experiential journey offered by Infinite Adventure club to capture the magical essence of Hampi during the festival of holi, through shared experiences of its heritage, culture, natural landscapes and narratives. There's undoubtedly something mystical about Hampi.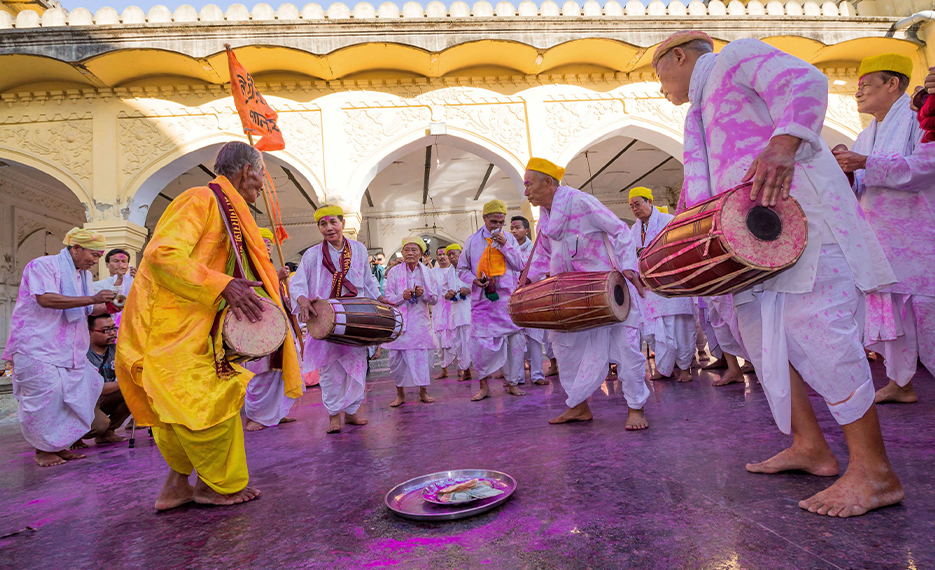 07 Manipur
Commencing on the full moon day of Phalguna, Holi comes underway the great Yaoshang Festival of Manipur making it a six-day festival. It is quite a cultural extravaganza to witness with a number of folk dancers and musicians performing amid fluorescent lamps and bonfires are put ablaze while people play with gulal. Since the very beginning of Vaishnavism these two Manipur festivals are celebrated here.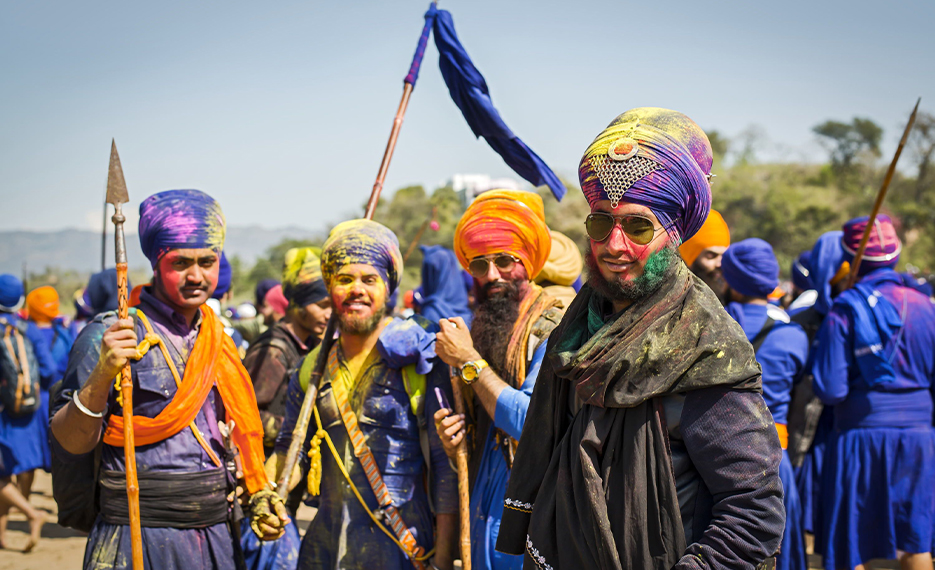 08 Punjab
The celebrations of Holi in Punjab by the Sikhs differ from the entire country in many ways. Locals shout their hearts out following a tradition. Furthermore, they exhibit their martial arts on this day and have fun with colors in the evening. Delicious halwa, puris, gujias, and malpuas are eaten and served to others. It is definitely one of the best places for Holi in India.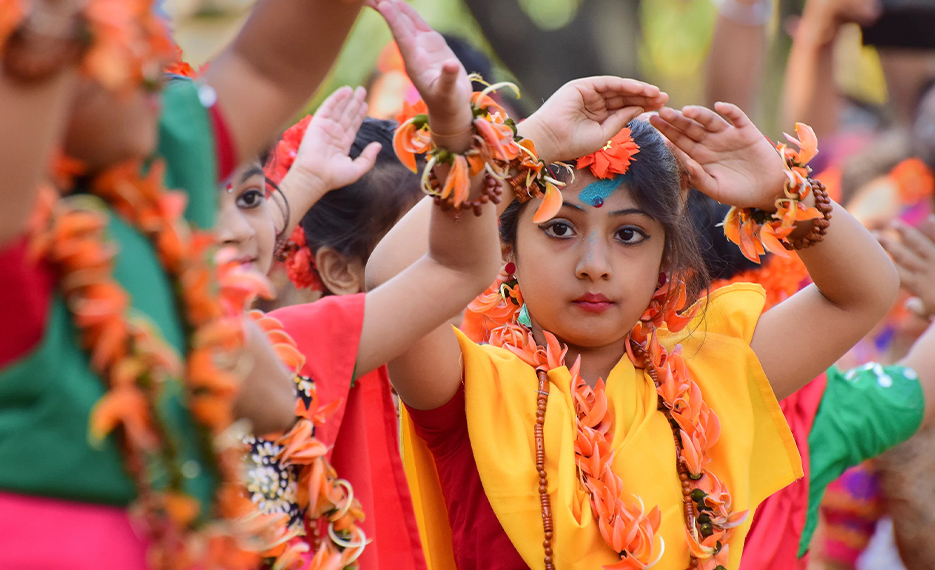 09 Purulia
A 3-day-long Basanta Utsava is a folk festival celebrated in the Purulia district of West Bengal. It begins before the actual Holi. People of Purulia sing folk songs, dance, and exhibit their unique folk art. The different forms of folk dance include the stunning Chau, Darbari Jhumur, and Natua, while the famous popular Baul musicians of WB sing melodious songs making it the best Holi in India. This will surely give you a glimpse of the glorious festivals in March in India.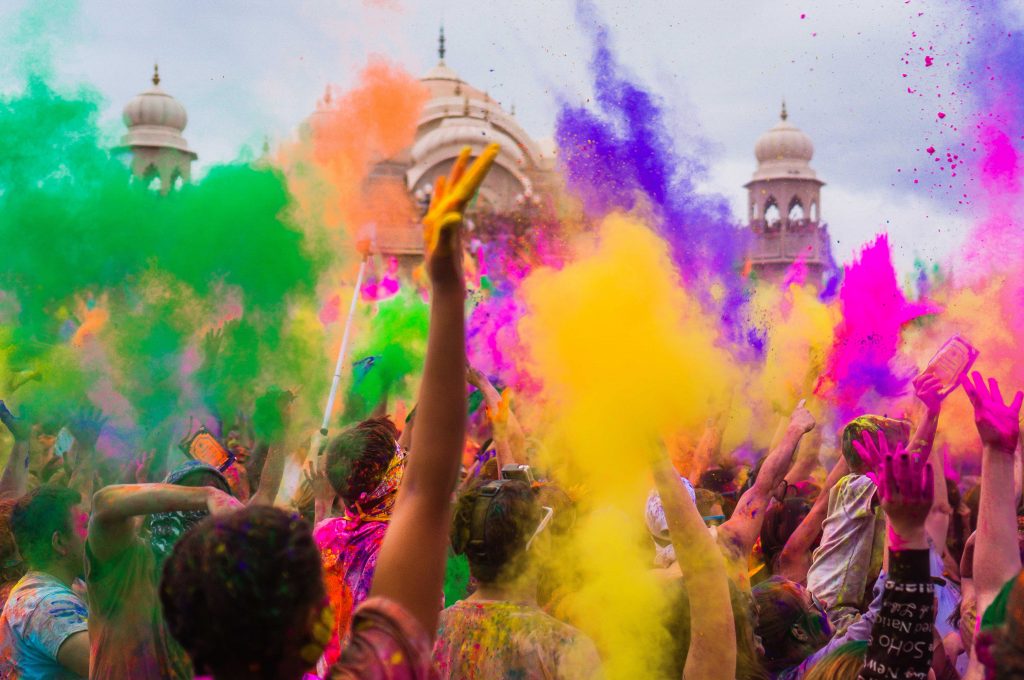 10 Jaipur
Jaipur is probably among the best places to celebrate Holi in India. It's not just the enthusiasm of the people of Jaipur that makes it a fun city to celebrate Holi, but also a great effort of Rajasthan Tourism that organizes a special event for visitors on the lawns of Khasa Kothi Hotel. This event features Rajasthani folk dance, song performances, and a festive lunch. Even if you're not a guest of this hotel, you can attend an event.
So Have you select a place to out for a Trip In This Holi.
Happy Holi